Top tag management solutions post will be discussing tag management system available  for website owners, marketers, and businesses small and big ! This post will briefly include a list of the best tag management system on the market nowadays.  So, if you are already looking for one, this post is right for you! You can save some time and energy.
Please note my goal to write this post is to make you aware of this technology and the companies that provides Tag Management System. To choose the right candidate for you, please you should consider many factors that meet your needs such price, support, technology and nature of your business website!
Due to the increasing growth of the users of internet worldwide and the complexity involved in digital marketing, many companies have been embracing TMS technology to increase sales and ROI. TMS come in to enable companies to enhance the way they manage the different tags, ranging from site analytics and marketing affiliations to multivariate testings and re-marketing tools.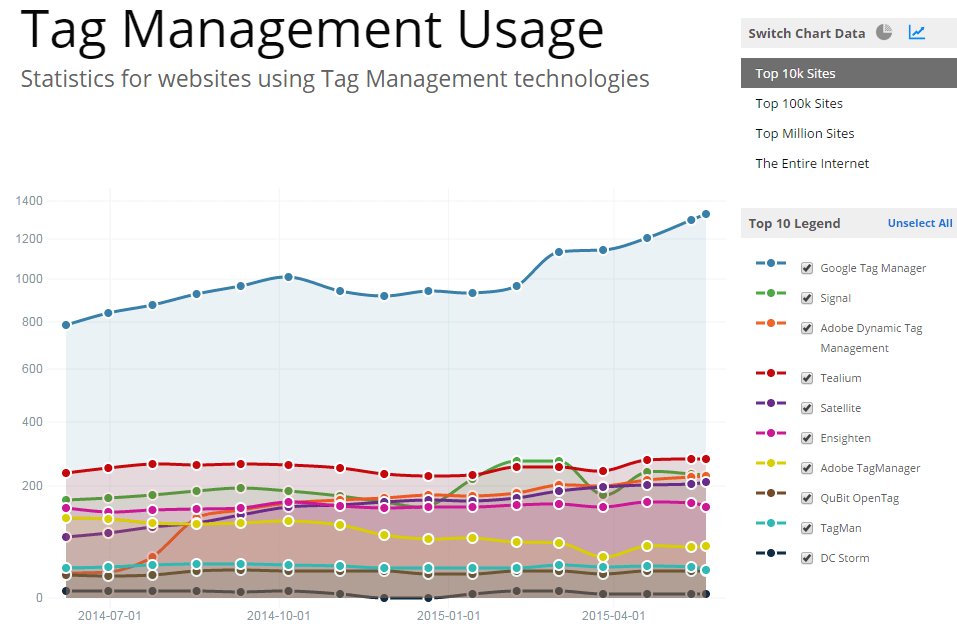 Image Credited to:  https://trends.builtwith.com/analytics/tag-management
I assume you have some information about tag management system. Said that, let's dive in to the top tag management solutions out there.
1- Top tag management solutions : 
I can see that Google Tag Manager is among the top tag management solutions. Personally, I am a big fan of Google Tag Manager. It is simple, easy and intuitive to use. The great things about Google Tag Manager are free (for the time being), having a great help center, and amazing official forum designed to answer questions professionally.
Google Tag Manager is based on a JavaScript snippet. They call it container Snippet. It worths saying that this container is supporting many tags. So, from Google Tag Manager interface, you can inject your website safely with tags such as Google Analytics, AdWords Conversion Tracking, AdWords Remarketing, DoubleClick  Floodlight Counter, Event Tracking and many  more.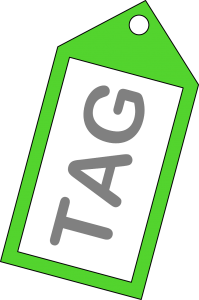 Here comes the beauty of tag management solutions like GTM. First, Marketing Agility which enables marketers to launch new tags with a few clicks: no more full independence on IT team, no more waiting times!!  Second, dependable data via a great and easy to use error checking tool  of GTM – Google Tag Assistance Extension. That helps marketers and website owners to check the firing status of their tags.
Implementing a tag management solution like GTM helps website to load quickly and run smoothly. Thanks to GTM one single Container which replaces all different tags with zero risks.
2- Top tag management solutions:  
Another candidate that constitutes top Tag Management Solutions is Ensighten. The company founded by Josh Manion in 2009. It establishes itself as a leader in omni-channel data and tag management.
Ensighten intends to help marketers to deliver 525% ROI through eliminating  dependency on IT folks and enhancing page performance.
Ensighten has great products. Ensighten Agile Marketing Platform enables enterprise-class products for digital marketers. Most importantly, their products are supported by Tag Delivery Network.
Ensighten Tag Management services includes Ensighten Manage, Ensighten Activate, Ensighten Mobile, Ensighten Inform, Ensighten Privacy.
3- Top tag management solutions : 
Another top tag management solutions here is  Tealium. Tag management system of Tealium tends to empower marketers with a complete comprehensive solution to run their third-party digital marketing tags so that to create a clean, actionable data. The company founded in 2008.
The company products come in to have solutions for Industries such as Ecommerce, Media and Publishing, and Technology services.
Tealium offers Free 30 day Trial to test their products that contain mainly Tealium IQ for Enterprise Tag Management and Tealium AudienceStream for Digital Data Distrubition. The products are user-friendly,simple, data-centred approach and muti-CDN Network.
4- Top tag management solutions: 
Adobe Inc. absorbed Satellite in 2013 from Search Discovery. It is now as part of Adobe Marketing Cloud under the name of Adobe Dynamic Tag Manager.
Adobe DTM uses tag technology of synchronous and asynchronous to deliver each tag. Note it also uses any 3rd party tag and provides a complete integrations with Google Analytics, Adobe SiteCatalyst, and Adobe Test & Target.
It is added to their marketing suit to cater their client base. So, if you are a client of Adobe, do not forget to take the advantage of this technology.
5- Top tag management solutions: 
The first thing to notice about Qubit, a tag management system company, is that founded by four ex-Googlers who worked in high positions in Google Inc. Qubit provides Tag management through Opentag .
In addition to other applications that they offer, their enterprise class and data management looks promising and outstanding.  Some great features of Opentag are a Container which contains all the 3rd party tools, CPA De-duplication which aims to improve ROI, and Privacy Consent that serves as informing visitors about visitor privacy.
6- Top tag management solutions: 
Similarly, Tag Commander ,which is also enforce itself as Top Management Solution out there, come in to simplify the management of wide range of tags, speed up the process of customization and deployment.
Tag Commander uses a Tag Container (master tag or meta tag)  as a Saas Application to supply a Universal Tag Container service.
Indeed, they have a great number of tag management solutions: Tag Management, Privacy Management, Data Management, Attribution Management, Conversion Deduplication, Application and video tagging and more.
7- Top tag management solutions: 
Another Tag management system that prove itself in the market is Super Tag. It is regarded to be also on Top of Management solutions.
Based on Australia, it is tag  management platform that reduces the risk of implementing different tags into the website through using an easy to use drag and drop online interface.
8- Top tag management solutions : 
It was formerly known as BrightTag. Signal also imposes its products and services to be nominated as top tag management solutions.
In addition to its Fuse Product, Signal tag management enables markets and website owners to have one tag that perform it all with ultimate control in configuration and performance.
9- Top tag management solutions : 
other nominee for out top tag management solutions is Innometrics. The company is based on Sweden with upcoming offices in USA and India.
It worth saying here that Innometrics provides tag management via its technology named Profile Cloud. There is very little said about their tag management systems.
10- Top tag management solutions: 
TagMan is operating under Ensighten umbrella. Its tag management systems provides open API, Third party tags  load  synchronously  and  asynchronously, Master tag loads  asynchronously, HTTPS support, Cookie integration and many more.
I hope that I covered all major players that operate in the field of tag management system. It looks like they will be more new brand companies to provide Tag management solutions due to the fact that many businesses wanted to go out and relieve from the heat of digital marketing.
Please note I am not endorsing any tag management systems here. Also, I do not have no hand with any kind of affiliation or partnership.
I hope this article give you some ideas and insight about what is going on the field of Tag Management System technology.
Thank you for reading. I wish you enjoyed this post about top tag management system. What do you think about this list ? which one you go for ? Are you aware of others ? Please let us know on comments below. Do not forget to subscribe please !