To run a successful campaign in AdWords is not an easy work nowadays. It can be intimidating. My goal to write this post is to help you make things happen in the correct and smooth way with an outstanding success. If you are looking for a strong foundation for the ultimate success of your AdWords campaign, you may find this post helpful.
Note before writing this post, I visited a wide range of online articles talking about successful AdWords campaigns. Surprisingly, most of them are discussing in a complex way this subject without talking about the basic foundation or the keys to run a successful campaign in AdWords.
Our world is complex enough! Simplicity pays and most of the times wins! Enough talking now. Let' see which is the "success foundation to a successful AdWords campaign".
Foundation to a successful AdWords campaign :
I – Choose the right Campaign Type.
If you are seriously looking for your success in advertising your business services online especially with Google AdWords, you have to look on the right type of campaign that meet your business needs.
Don't mess up with this keystone. Because if you choose wrong type and wanted to change it later, this will affect your campaign ad serving, performance, measurement, analytics and some other settings like hiding and deactivating certain features.
Save your time, energy and money by choosing the campaign type that aligns with your business goals. Make it right from the first time to have healthy start !!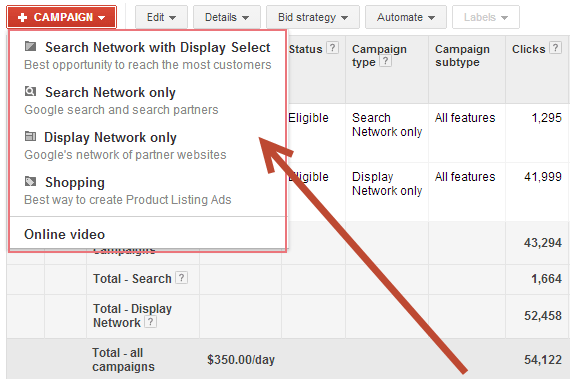 To make it easy, Google AdWords is formed with Campaign Types and Campaign Sub-types.  The Campaign Type lets you decide where your ads can be seen to your potential clients. Campaign Sub-type, on other hands, determines settings and options that are available to help you match your business goals.
Both Google Search Network and Google Display Network constitute campaign types. Note please when we say Google Search Network means your ads are going to be serving in Google search, Google Shopping, Google Maps, Google Images, Google Groups, and Google Search Partners like AOL.
As for Google Display Network (GND), your ads will be displayed in huge number of websites partners with Google (AdSense), YouTube, Google Finance, Blogger, Apps and videos.
Based on that, there are mainly three types of campaigns in AdWords:
Display Network only (supports ads with rich media, Text, image and video)
Search Network only (supports keyword- targeted Text Ads )
Search Network with Display Select.(Renamed recently) (supports everything in the two combined)
You should be thinking now of how both networks are working. Great! Here comes the time to consider making research about your market keywords and your competitors.
Google Search Network is keyword targeted text ads meaning you are attempting to reach customer who are actively searching for your products and services on Google Search. While GDN is working with both targeted keywords and Placements. To explain, you can match your ads to websites by creating keywords list or choosing websites or placements that match your industry. AdWords will generate a list of a wide range of relevant websites to choose from that reflecting the nature of your business.
What we said above so far is regarded as fundamentals in AdWords. To know more about campaigns sub-types that contribute also to the success foundation to a successful AdWords campaign, check them below
  II – Choose the right Campaign Sub-type:
Remember a campaign sub-types represent which settings and options that can be accessible through each campaign type. Let's simplify them as follows:
Search Network Only Type:
1) Standard sub-type: represents Basic features and options such as basic location, bidding, and budget, and language targeting
2) All Features sub-type: includes everything you want to see about your campaign such as delivery methods and all ad extensions.
3) Product Listing Ads sub-type: is going to be replaced with Shopping Campaigns. This campaign represents E-commerce businesses that are selling products online with images, titles, prices
4) Dynamic Search Ads sub-type: works like auto generated ads. Google use the content of your website instead of Keywords to create Ads.

Display Network Only Type:
1) All Features sub-type:  includes all available settings and options such as location and language targeting, Extensions and many more.
2) Mobiles Apps sub-type:  sets appropriate ads to be shown on display networks and AdMob network
3) Remarketing sub-type:  is kind of re-targeting via making your ads to be shown for those who has visited your website already.
4) Engagement sub-type:  is for Display Network only because it has interactive and rich media ad formats.

Search Network with Display Select Type:
1) All Features Sub-type: includes all the standard settings mentioned above plus all settings that is contained within Display Network Tab (Display Keywords, Placements, and Remarketing and site category options).
Tip:  Do not choose this type of campaign!! It is not recommended at all even though you can find Google recommend it. (Reminder: Google is looking to make profits). Best practice is to work on both networks separately.
To end with, mastering the above campaign types and sub-types will pave the way to make a strong but a success foundation to a successful AdWords campaign.
Based on my experience, almost 75% of account that I have audited their poor resulted AdWords accounts. I found the main reasons for unsuccessful management and re-targeting originated from wrong choices regarding campaign type and sub-types.
I hope this post helps you to get information about the fundamental keystones that help so greatly to build a success foundation to a successful AdWords campaign.
How do you think about it? Is something important need to be added? Would you like to add something else? Please share your comments below.
Do not forget to subscribe to receive free Newsletters for the industry experts.