If you are using Google Analytics day after day for data mining, you may see a new born feature has been added recently under Audience Report called Benchmarking. Google Analytics Benchmarking is a super duper tool that has been injected recently into Google Analytics system.
If you have been looking for a tool to use to compare the results of your marketing efforts with your competitors, then Google Analytics Benchmarking report is what you are looking for. Guess what! It is simple, powerful and free feature. Let's have a brief overview of Benchmarking in Google Analytics reports. What can Benchmarking offer you? How to activate and take advantage of it?
Google Analytics Benchmarking?
Google Analytics Benchmarking was in use years ago. In 2011, Google Analytics retired Benchmarking with some other tools (Did you remember?). Maybe it was a mistake that has been corrected now. Just recently — 10 Sept 2014 — Google brought back to life Benchmarking reporting to help Analytics users track how they are performing compared to their peers in the industry. Google recognized that Google Analytics Benchmarking is most wanted from the internet marketing professionals.
To explain more, Google Analytics Benchmarking report empowers you with the necessary intelligent data to act on when you are comparing your overall marketing activities with those who are playing against you in the same industry. It is an effective assessment or evaluation tool. With Google Analytics Benchmarking, you can select from 1600 industry categories, 1250 markets and 7 size buckets. The tool exists to provide you with useful answers to some burning questions that align with your online advertising goals, targets and trends .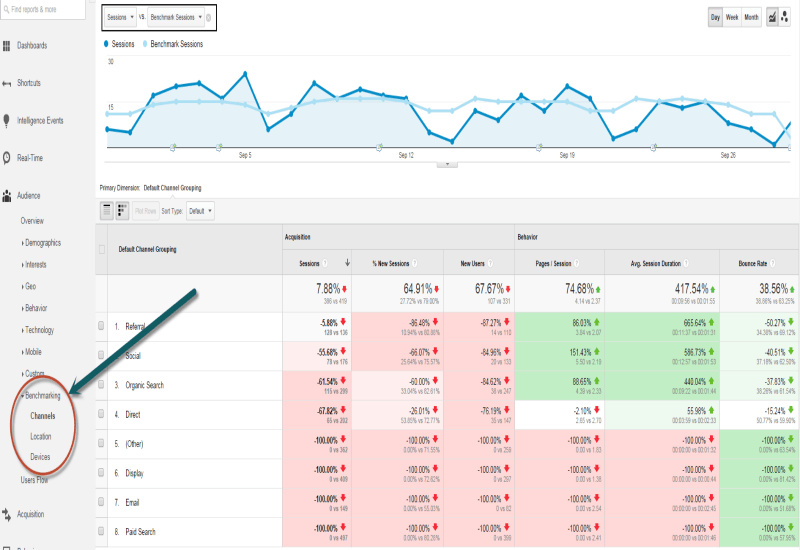 What can Google Analytics Benchmarking offer you?
If you see Google Analytics Benchmarking report, you might have the feeling that you are dealing with a Forex platform or Stock Exchange where shares, commodities, stocks and currencies are traded. With percentages, some data is up; some is down. There are too much data available on Google Analytics Benchmarking. The report includes Dimension data about Channels ( Default Channel Grouping), Location, and Devices. Those dimensions can be compared with the following benchmarking Metrics: Sessions, % New Sessions, New Sessions, Page / Session etc.
How to enable Benchmarking in Google Analytics?
To start using this feature is easy. I suppose you have Admin Access in GA. If so, you should activate it by checking "Anonymously with Google and others." To do this, you should follow this path: click Admin >> then Account Settings. And voila,  you can see it listed in the Data Sharing Settings. Select it if you are interested in taking advantage of the benchmarking data.
That's it! I do really hope you found this post about Google Analytics Benchmarking useful. Personally, I see this feature possesses a big importance for data comparison and optimization.
If you have some comments to share about this feature or something related, please share them with us in the comment block below. Do not forget to join our list of subscribers to mail you free marking tips and updates!